The Prosper Show is one of the marquee annual events in the Amazon marketplace ecosystem. This year was no different, though marketing budgets were probably a bit down from their 2021 highs.
Like we noted ahead of the show, in recent years, there's always been one overarching takeaway:
2021: the year of the Amazon Aggregator – This was the coming out party for aggregators flush with venture cash. Thrasio had a massive booth and Acquco memorably passed out shirts that proclaimed "Refer a Seller, get a Tesla."
2022: Supply Chain Chaos – Coming off the worst of the global shipping delays, 2022 focused heavily on optimizing supply chains and cutting down on product returns.
2023: Profitability? – Ahead of the show, we speculated that with market uncertainty and consumer demand softening – leaving many brands with excess inventory – this would be the year of profitability.
We were right about profitability, but there were so many other interesting trends worth exploring. Here are some of the highlights—and what we think they mean for sellers, agencies, and aggregators:
1. Everyone is talking about AI & data
Whether they were touting the next best ChatGPT prompts (Chad Rubin has a great post about some of these) or talking about key data strategies (hint: we were), the heart of a lot of software hype this year was centered around data.
Though ChatGPT is a powerful AI tool that's been trained on a MASSIVE dataset, this data is the same for every user. Everyone who gives the same prompt should get the same result.
ChatGPT only becomes differentiated when you train it on differentiated data. So, for example, if you give it a curated dataset of thousands of 'best seller' listings and then ask it to optimize your listing based on your target keywords v. just giving it the target keywords, you'll get a better output because you essentially taught it what good looked like.
OpenAI's models are massive by nature, but if you want a niche response, you need to focus it on a niche topic. And you need the data inputs to do that. And this is true for any AI model you use. Good, relevant data inputs = good outputs.
2. You can't have an AI strategy without a data strategy
This AI hype dovetails into the larger need for a robust data strategy. On the conference floor, this was a constant topic of conversation across booths. It was also the topic for our own conference presentation.
In his session, Unlocking Value From a Treasure of Information Amazon Shares with a Sound Data Strategy, our CEO and Founder, Sreenath Reddy, highlighted all the various data that brands, agencies, and aggregators need to ingest from Amazon.
The data sources themselves are evolving, however, making it difficult for brands to keep up. Here are a few of the relatively new and exciting data sources available:
Amazon Marketing Stream
Amazon Attribution
These evolving data sources present several challenges.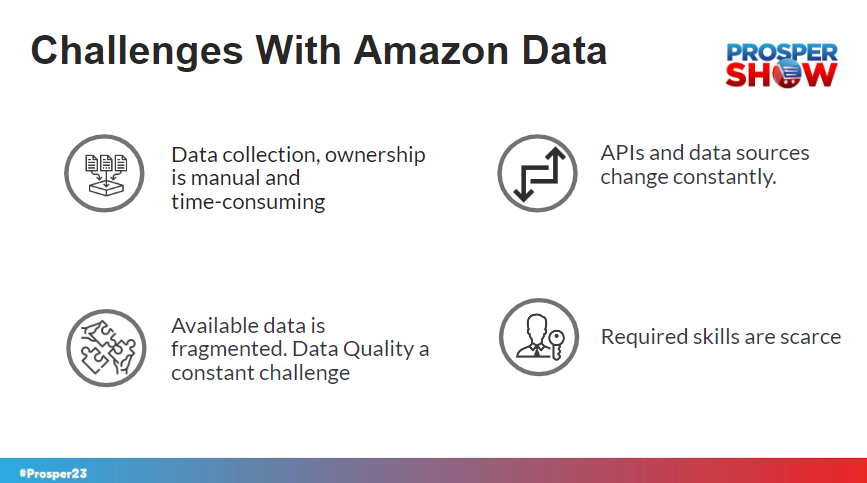 Sreenath's thesis is that competing effectively on Amazon requires the ability to collect, organize and leverage these disparate datasets.
Stay tuned for our refreshed Data Strategy White Paper, where you can learn more about how to build your own data strategy!
3. Profitability is King
As we predicted, this year's Prosper Show really highlighted a renewed focus on profitability. Consumer demand has pulled back. In a rush to overcome the supply chain challenges of 2021, many brands are now sitting on too much inventory.
Even if you're in a healthy inventory position, if a competitor is not, they might discount to move volume, which could create a race to the bottom at precisely the wrong time. Here's some content trends we heard at the show relevant in the context of profitability:
Brands need to be leveraging AI. Like we talked about above, ChatGPT can reduce manual work and headcount costs associated with optimizing your listing, but these same tools also allow non-native speakers to write more compelling listings. This could lead to margin erosion for brands competing with overseas manufacturers that can produce and list their products in-house.
Premium brands can win in price sensitive categories, but only if they leverage the right data. The team over at Momentum Commerce had a great presentation highlighting how to calculate relative, competition-aware Amazon metrics such as share of voice for each product in a catalog. However, they need to balance that with developing a holistic strategy for growing brand affinity and sales volume in the face of lower-priced competition.
Brand-building is more important than ever. JungleScout highlighted how over 50% of brands are private label today, and that number has been growing for years. By building a brand, you're more than just selling products, you're selling an experience, one that's less price sensitive and more profitable.
4. SaaS Aggregators Were Out in Force
This was an unexpected development at this year's show.
SaaS aggregators buy and consolidate Software as a Service (SaaS) businesses into a larger software business. The idea is that shared economies of scale, for instance bulk savings on cloud storage costs, allow these businesses to thrive in aggregate. Within the Amazon niche, this also means that the customers of one business are likely prime targets for other SaaS businesses within the aggregator, leading to cross-and-upselling opportunities.
These companies had some of the largest booths, sponsored some of the largest parties, and had the biggest teams at the show.
We're interested to see how the space develops!
5. Walmart Making Gains with Sellers?
The final interesting development this year was to see how Amazon and Walmart's battle for marketplace sellers is evolving.
Like the SaaS Aggregators, Walmart Connect had one of the largest booths at the show, and it hosted several dinners and afterparties aimed at attracting sellers to its marketplace.
Walmart's marketplace is certainly growing in assortment, and with lower CPCs and less competition, it could be increasingly attractive for brands that are looking to optimize for profitability.
As Bloomberg reported two weeks ago, Walmart+ members are also increasingly wealthy. 13% of households that earned $150k+ were members a year ago. Today that number is 28%.
What makes Walmart so attractive for brands today is in how Walmart Connect is stitching together insights from Walmart's massive physical retail footprint with digital channels. More data, better data, and connective data.