Trying to avoid high CPCs and edge out your competitors on Black Friday and Cyber Monday? Custom audiences in Amazon Marketing Cloud can help.
You might be craving extra capabilities not available in Amazon's Ad Console or in DSP:
Instead of just advertising a sponsored ad on a set of keywords, for example, what if you could re-target shoppers who recently searched for those keywords, but didn't purchase yet?
What if you could reach people who seem to be in a gift-giving spirit, e.g. those who recently added a product to a gift list?
In Amazon Marketing Cloud, tactics like this are now possible. All you have to do is create your own custom audience in AMC, and then push that audience to DSP. 
In fact, we came up with five custom audiences you can build in AMC to level up your end-of-year ad strategy. If you're an Intentwise Explore user, you can take advantage of these new audiences today.
What are custom audiences in Amazon Marketing Cloud?
Custom audiences are groups of shoppers you can pool together in Amazon Marketing Cloud based on those users actions.
Almost any audience you can imagine, you can probably create. Make an audience of people who have viewed your ads 6+ times in a day, for example, or of people who have seen a DSP ad followed by a Sponsored Products ad.
Then, push the audience to DSP, and run ads targeting that specific group of shoppers—or lookalike audiences of that group of shoppers.
These can be audiences you target directly, or audiences you negate from seeing your DSP ads.
The beauty of AMC audiences is they refresh automatically, so shoppers will cycle in and out depending on whether they meet the parameters.
For example, if you want to create an audience of shoppers that performed a certain action between 5 and 7 days ago, those shoppers will automatically move in and out of your custom audience as time passes.
The 5 custom audiences you need for the end of the year
Now that you understand how audiences work, let's talk about the top audiences for the holidays. While the possibilities of AMC audience creation are truly endless, we've compiled a list of 5 specific audiences we believe are essential for tent-pole advertising events, like Black Friday and Cyber Monday.
All of these, for the record, are easy to activate in Intentwise Explore. With our platform, you can create these audiences at scale, across all of your AMC instances. You don't need to write SQL to do it.
#1. Shoppers who added to cart but did not purchase. Let's start with one of the most basic audiences around: Target shoppers who added a particular product of yours to their cart, but did not make a purchase yet.
You can further refine the audience by setting your own custom time range. Let's say you decide that between 48 hours and 72 hours after a shopper adds to cart is the best time to re-target them.
You can narrow down your audience so that you reach only shoppers who added in that time range.
#2. Shoppers who added a product to a gift list or wish list but did not purchase. AMC lets you track all kinds of new actions that you normally can't see in DSP, such as shoppers adding a product to a gift list or a wish list.
The holidays are the season of gift giving. Gift lists and wish lists therefore give you the basis for a simple, efficient audience of potential gift givers: People who added a specific product to a gift list in the past week but did not make a purchase yet.
#3. Shoppers who searched for a specific keyword but did not purchase. Let's say you have a specific keyword or set of keywords that you know are high converters for your product. These can be brand or non-brand keywords. For example, "coffee mug" or "Bose headphones."
You can create an audience of people who searched for that keyword between a custom time range (say, 24 and 48 hours ago), but did not purchase. You already know they're in the market for a product very much like yours, and they searched for a target keyword of yours recently.
It's a slam dunk re-targeting push that is only possible in AMC.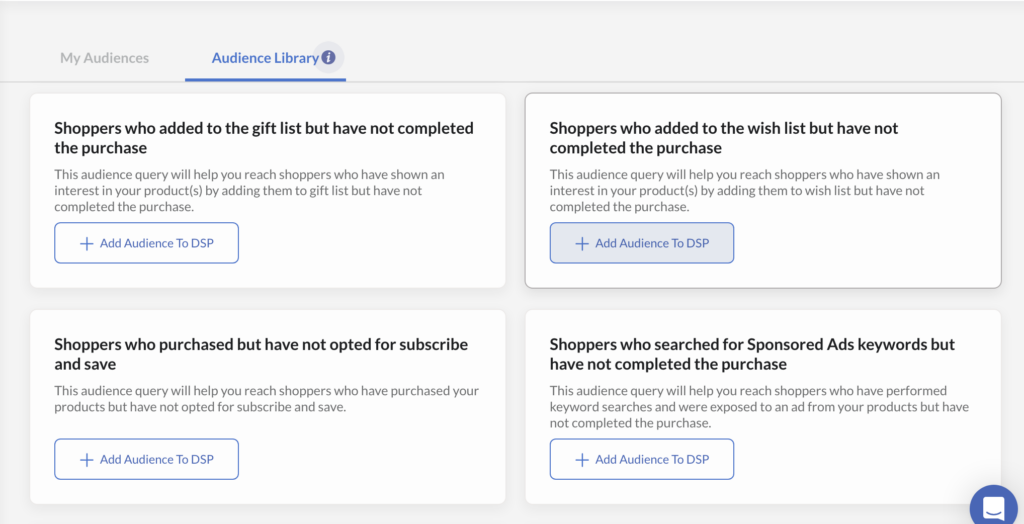 #4. Purchasers who are not subscribers. If you sell a consumable product, and you want to get the most mileage out of your holiday shoppers, you probably want to convert them into subscribers.
AMC offers one of the simplest ways to reach people who seem to be on the verge of Subscribe & Save. Create an audience of shoppers who have purchased from you previously but who did not subscribe, and run an ad encouraging them to subscribe ahead of the holidays.
Let's say you only want to reach people who've made 1 or 2 brand purchases, because you've found that those who've purchased 5+ times without subscribing are past the point of subscribing. You can easily set those parameters, and negate that audience of frequent purchasers.
#5. Lookalike audiences. The ability to create lookalikes of your existing AMC audiences is one of the powerful new features Amazon announced at unBoxed.
Here are a few ideas of what you can do with lookalikes ahead of the holidays:
1. Craft lookalikes of past holiday shoppers. If you've had an instance for more than a year, and therefore have a year's worth of historical data, you can reach people who were past holiday purchasers.
Let's say your holiday season customers look markedly different from your regular season customers. No problem—just create a lookalike audience of your 2022 holiday buyers, and you have a great place to start your campaigns.
2. Alternatively, you could go after high-value shoppers. Let's say you want to target shoppers with a high Customer Life-Time Value or a high repeat purchase rate. Just make an audience in AMC of your existing high-CLTV customers. Then, when you push the audience to DSP, DSP can make a lookalike of that AMC audience.
Suddenly, you can reach a group of shoppers who resemble your existing high CLTV customers, and are therefore very likely to have a high CLTV of their own.
These are just a few ideas. The potential of lookalikes in AMC, however, is as limitless as your imagination.
Do you have other tips ahead of the holidays?
Beyond custom audiences, there are other ways you should be using analytics right now to make the most of your holiday ad campaigns. A few other tips we recommend:
Want to know when is the best time to start your pre-Black Friday ad campaign? We built a query in Amazon Marketing Cloud, which we discussed in a recent newsletter, that lets you see which days the shoppers who ultimately bought from you during tentpole events were first exposed to your ads.
This tells you whether advertising two weeks ahead of a tentpole event like Black Friday is driving returns—or whether that ad spend is wasted.
Want to know whether you should go after gifting keywords? In a recent blog, one of our agency clients talked about how he uses Intentwise Ad Optimizer to identify seasonal trends, like a spike in gift-giving keywords. In Intentwise, it's extremely easy to then pull these trending gift-giving keywords into your next ad campaign.
(Want more content like this? Be sure to subscribe to our newsletter.)