Amazon earnings are out this week, and I wanted to take a moment to talk about what's new.
The big picture takeaway is that ad revenue is up 23% year over year, bringing in $9.5 billion in net sales in Q1 2023. That's exactly the same growth rate as in Q4 2022. Amazon beat guidance which was set at 4-8% growth for the quarter.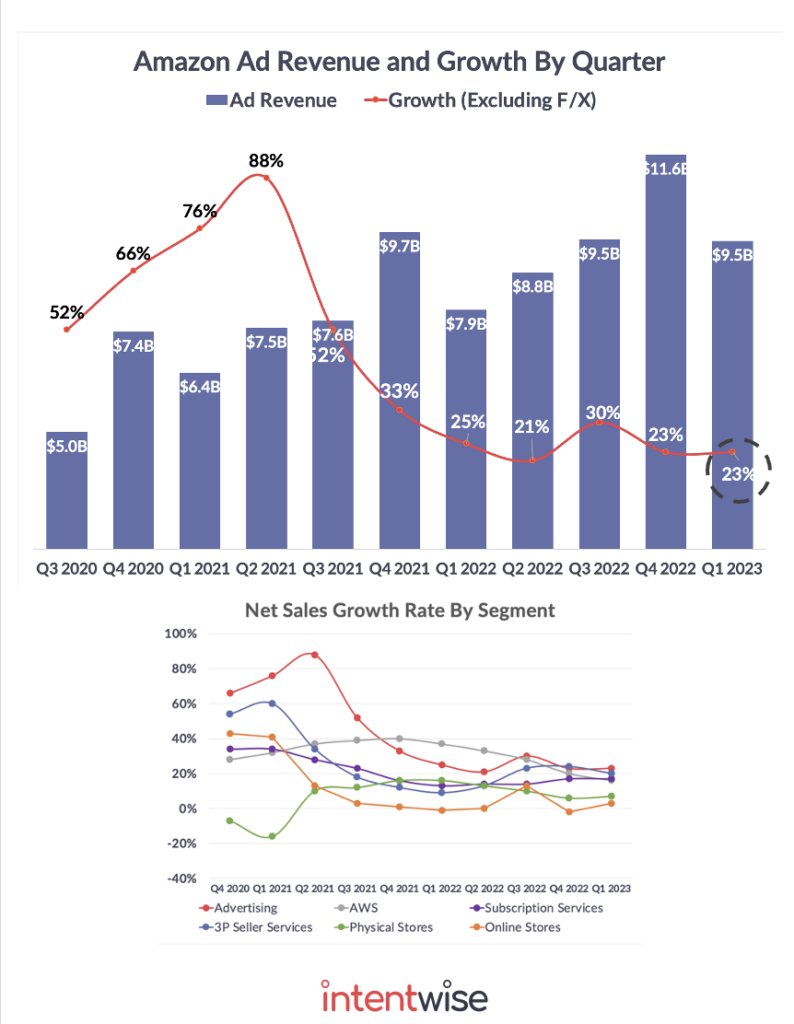 The rise of AMC
Outside of pure earnings numbers, I think there are a lot of important changes to unpack from Amazon.
This past quarter, for instance, I've noticed Amazon making a broader push to integrate—and make visible—some of its newer ad products. Most importantly, Amazon recently added access to both Amazon DSP and Amazon Marketing Cloud (AMC) to its Ad Console.
This is big news. It means that DSP and AMC will be far more accessible to the average brand than before. Gradually, more brands will start finding out about AMC.
Lately, AMC in particular seems to be getting a lot of Amazon's attention. In his letter to shareholders, Andy Jassy recently spotlighted Amazon Marketing Cloud as a primary example of the kinds of "comprehensive, flexible, and durable planning and measurement solutions" that Amazon has spent the past few years building.
The tricky part: To use AMC, you need to know how to write complex SQL queries. I'm betting all of this is going to spur a lot of investment in learning SQL, which I've been expecting for a while. Luckily, at Intentwise, we have an entire online training to teach SQL skills.
Behind-the-scenes data is becoming public
From a data perspective, the other big takeaway from this past quarter is that Amazon is making more data visible to its customers.
Last month, Amazon started displaying sales data in search results for some categories. Customers have been able to see tags like "800+ bought in past month" or "100k+ bought in past month" just below the star rating of a product.
These aren't random estimates. Momentum Commerce published a great analysis on these sales data tests, and it found that the "Bought in Past Month" estimates had a greater than 90% accuracy.
I bet that, if it gets a broader rollout, the sales data could have a meaningful influence on shopping behavior.
We already know that shoppers on Amazon are drawn to products with a high number of reviews, and I think a similar phenomenon will play out when it comes to sales data. All else being equal, customers will opt for the product with the higher number of sales.
The sales data test has a similar ethos to another new feature on Amazon from this quarter: the "Frequently Returned" label, which is beginning to surface on the product detail pages of products with high return rates.
These two features add a lot to the data landscape on Amazon. It's now easier to see how your competitors are doing. What are their sales? Is their return rate unsustainably high? You might be able to find out just by looking.
But as a business owner, these features also mean you should be more mindful of your metrics.
It can be tricky to quickly view data on product returns in the Ad Console. So if your return rate suddenly increases, you might not be able to catch it before you're hit with a dreaded "Frequently Returned" label.
To my mind, that just makes having access to all of these data points in a single view all the more critical.