A+ Content is a big part of the Amazon product page. In January of this year, Amazon announced that Basic A+ Content is now free for all vendors. This means that more brands can now deliver a complete product detail page experience. Here's a quick look at some specifics.
What Is It
Enhanced content for product listings
Ability to add more detailed item descriptions, heightened images, comparison charts, videos
Aimed at driving more conversions on a detail page
Why Use It
Amazon data says A+ Content can increase sales on average 3 to 10%
Enhanced product listing for improved buyer experience
Helps consumers overcome barriers to purchase decisions
Drives brand affinity
Allows cross-promotion of products

Basic A+ Content
Free to all vendors. Vendors can choose from 12 modules, but each product page can display only up to 5 modules at one time. Includes:
Scannable text
Lifestyle images
Product comparison charts
Bulleted lists
Other branded elements
DIY self-service option or Amazon-assisted option to choose from
Premium A+ Content
Is by invitation only. Offers additional modules beyond those covered by Basic A+ content including:
Integrated HD video content
Superior images
Interactive elements like
Clickable Q&A's
Several formats for comparison charts
Hotspots
Mobile friendly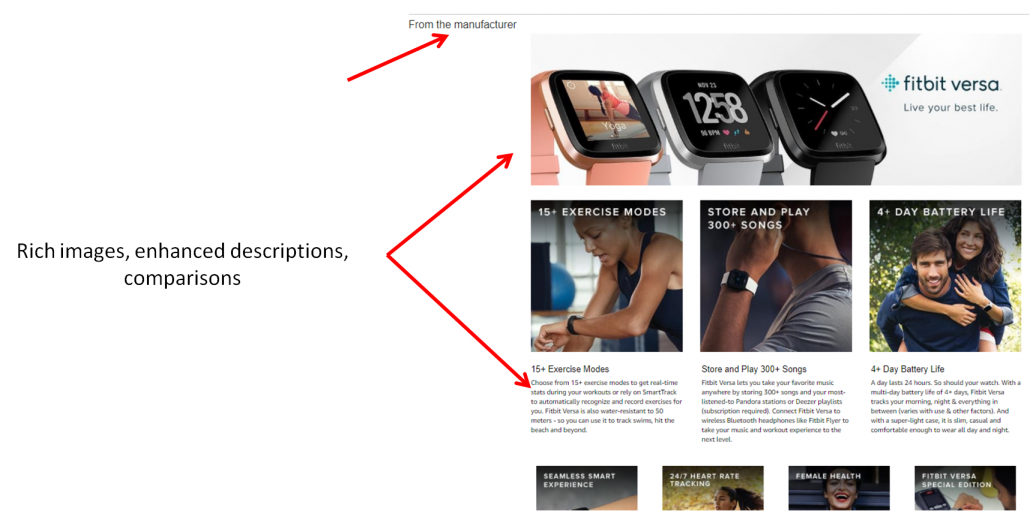 Which ASIN's To Create A+ Content For
Amazon suggests vendors focus on products that are
Premium-priced
Have differentiated benefits and features
Have a strong brand story
Already driving traffic
Getting Started
Once the target list of ASIN's have been shortlisted, it's a good idea to take a look at the competition. See what their product pages look like. Since Basic A+ Content is now free to vendors, this is a good time to experiment and see how it works for your products.
Read our post "Maximize Customer Engagement and Sales with Amazon Stores" to learn how you can leverage this free feature to attract and engage customers.