Amazon Posts is exactly what it sounds like—a happy mix of the best features of an ecommerce site and a social media platform that allows Amazon sellers and vendors to engage customers with social media style posts that link directly to their stores.
Released late last year, Amazon Posts beta is currently available for free to US vendors and sellers who have signed up for the Amazon Brand Registry. Posts allow brands and products to be discovered by shoppers by browsing carousel feeds of content curated by brands themselves. This feature is one of many discoveries and content-driven advertising options that Amazon introduced or improved in 2019, including Amazon video campaigns, Sponsored Display ads, and Sponsored Products.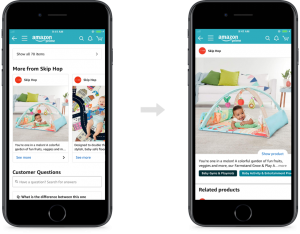 Why You Should be Posting on Amazon
It's free right now. Plus there's no limit on how often you can post – Amazon recommends posting as often as you post on other social media. This means you can save your CPC budget for the more expensive advertising options while experimenting constantly to see what content works and what doesn't.
It provides access to valuable performance metrics. As you experiment with content, you can track engagement data including views, clicks, and clickthrough rates. The only piece of data missing right now is revenue attribution.
You can reuse your most engaging social media content to stand out. Amazon encourages you to simply repurpose your best performing social media content to Posts. Doing so will give your social media teams better ROI and allow you to showcase your best images and headlines to reel in customers.
Relatively few brands are leveraging posts right now.

This means that you have less clutter to break through at the moment and can get a head start on your competitors on getting noticed on category pages and in building best practices.

If you don't, your competitor will.

If you don't use Posts yet, you might be ceding visibility and sales to a competitor who does use it. This is especially a threat with Posts as your competitor's posts can appear on your product detail pages and steal away customers unless you counter it with your own posts.
The beta version of this feature has its share of limitations too. For one, it doesn't allow advertisers to pick the placement of their posts. The platform uses category tags and other criteria to place it on a brand's detail pages, detail pages for related brands, feeds for related posts and on category-based feeds. Additionally, Posts opens up yet another front for brands in their war for clicks and sales on Amazon, putting still more pressure on battle-worn social media teams. That said, these drawbacks are minor when compared to the potential benefits of reaching out to customers with product-focused content.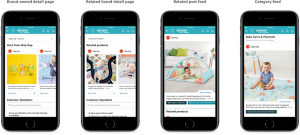 How to Start Posting on Amazon
If you're a US-based Amazon seller or vendor and have enrolled your brand in the Amazon Brand Registry you can start posting in three simple steps:
Step 1: Use your advertising console credentials to log in to posts.amazon.com
Step 2: Verify your brand name and upload your brand's logo to create a profile.
Step 3: Upload good looking images, write a caption, tag related products and start posting!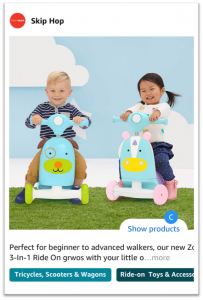 Just remember that while Amazon allows up to 2200 characters in the caption, only the first two lines will be displayed. Refine your caption to make sure it's click-worthy. Similarly, use attractive, high-quality images to stand out favorably from the competition.
It remains to be seen what direction Posts will take going forward, but as other advertising avenues on Amazon become more expensive and competitive, failing to leverage the still clutter-free, budget-free Posts right away would be a strategic mistake.
Read our post "Amazon's new 'Manage Your Experiments' tool for A+ Content" to know more about the beta feature that allows marketers to run easily A/B tests on their A+ Content.