Amazon Sponsored Products is one of the most powerful advertising options for Amazon Sellers to increase the visibility and reach of individual products on the platform. A Sponsored Products ad places your product right where relevant shoppers are most likely to find it – on search results pages and product pages. What's more, Sponsored Products is a pay-per-click (PPC) ad that allows you to set and adjust your bids and budget according to your campaign goals, making it the ideal choice for drawing attention to new or low-traffic product pages and special offers.
Not surprisingly, these advantages combine to make Sponsored Products an increasingly popular advertising option on Amazon. This, in turn, means that advertisers will need to leverage technology and data to look closely at their campaigns and uncover tactics that will deliver the best ACOS (advertising cost of sale). Additionally, as with any advertising, finding the best place to display your ad is critical to control costs and maximize return on your Sponsored Products campaigns.
Placement Options for Sponsored Products
Amazon Advertising recognizes this and is constantly testing new pieces of real estate on the site to help shoppers find your products. It currently offers the following placements: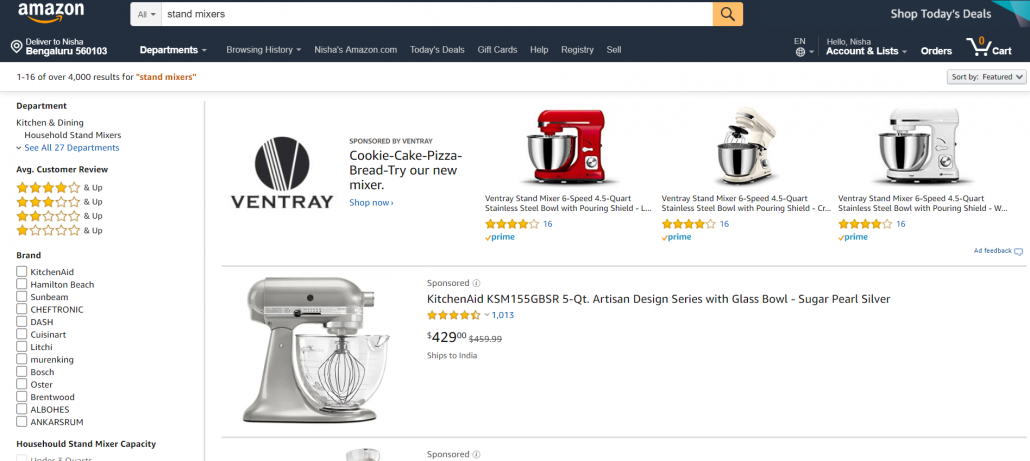 Product detail pages (PDP)
Rest-of-search (ROS – middle/bottom of search, page 2, 3 etc. of search results)

What's New
Amazon has also been iterating Sponsored Products placement features to allow advertisers more control over their campaigns. It rolled out the following new features early this year:
Adjust bids by placement feature: This feature replaced the Bid+ feature and enables advertisers to set bid multipliers between 0% and 900% for top-of-search and product details page placements. Combined with dynamic bidding, this control can be used to improve advertisers' ability to compete successfully for these sought after spots.
Placement performance report: This report provides data on the performance of a campaign's ad at top-of-search placement with other placement options. It can be used to fine-tune the campaign strategy based on its ACOS targets and advertising goals.
How to Use the Intentwise Platform to Optimize Sponsored Products Placement
Intentwise lets you manage bid multipliers for Sponsored Products placement directly from the platform. The platform also lets you track ACOS on the different placement types across campaigns or at the individual campaign level.
Intentwise recommends that sellers review the placement report bi-weekly and make placement adjustments accordingly. Intentwise's bi-weekly placement Recommendations makes is easy to identify the right campaigns and placements where bid multipliers need to be changed.
Read our post "Know your Amazon Ad Choices and How to Master Them" for tips and tricks to improve your performance on Amazon.