The right audience is just minutes away for your business both on and off Amazon with Sponsored Display audience campaigns. Instead of targeting keywords as we do with Sponsored Brands and Sponsored Products, Sponsored Display has targeting based on audiences. It gives advertisers access to a large catalog of audience segments that are easy to use and ready to go. Sponsored Display audiences is a great way to engage new customers as well as to help advertisers learn more about their brand on Amazon.
How does audience targeting work?

Custom-built audiences (such as views remarketing) allows you to reach high-intent shoppers or engage new customers using customizable controls such as star rating refinements.
Amazon audiences allows you to reach audiences with pre-built segments based on a variety of first-party shopping and streaming signals from Amazon, Twitch, IMDb, and Prime Video. It includes interests, lifestyle, in-market, and life stage audiences.
Customize your audience
Customizing audiences by categories helps you to reach audiences who have viewed products within a specific retail category or browse node in the past 30 days. You can further refine by brand, price range, star rating, and shipping eligibility.
Views Remarketing
Custom-build audiences with views remarketing enable you to engage with Amazon shoppers who have viewed specific product detail pages in the past 30 days but have not purchased your advertised product. We recommend using views remarketing to help increase product consideration and awareness.
You can define & engage audiences from 3 categories of shoppers who viewed:
Your advertised products on Amazon in the past 30 days
Products like your advertised products on Amazon in the past 30 days
Products within a specific category or browse node on Amazon in the past 30 days
You can further refine these audiences using product attribute refinements, such as brand, price band, Prime eligibility, or star rating.

Amazon Audiences
Amazon audiences offer thousands of pre-built audience segments to help advertisers reach new prospective shoppers through awareness and consideration campaigns. Built and curated by Amazon Advertising, it uses a variety of first-party shopping and streaming insights.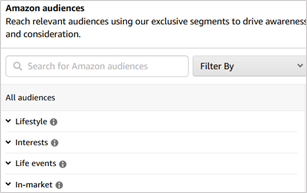 It has four major categories:
In-market: In-market segments allow advertisers to engage audiences that are "in the aisle" and recently shopped for products in each category. To capture share-of-mind, advertisers can reach segments in the same category as their advertised products for consideration campaigns; or simply try out entirely new segments to help drive awareness.
Lifestyle: Positioned for awareness campaigns, these audiences reflect a variety of shopping and viewing behaviors including shopping on Amazon, browsing on IMDb, streaming on Prime Video, or streaming on Twitch that map to specific lifestyles.
Interests: Activate awareness campaigns by engaging groups of shoppers who share a common interest, based on Amazon browse and purchase signals.
Life events: Life events audiences give brands the opportunity to introduce relevant products and services to shoppers based around life moments, to drive both awareness and consideration.
You may add multiple Amazon audiences and mix them with views remarketing targets in a single campaign. Please note that combining multiple Amazon audiences in a campaign will result in a broader audience for your ads rather than narrowing to shoppers who overlap in all selected audiences.
Eligibility
Vendors, sellers who are registered in the Amazon Brand registry can target Audiences.
Where ads appear
On Amazon – On the Amazon home page, product detail pages, or shopping results pages.
Off Amazon – On third-party websites and apps (currently not available in IN or JP).
Best Practices for audience targeting
Make sure that SP/SB/SD PAT campaigns are in order and well-optimized, before using Amazon audience.
Have a campaign objective in mind before creating the campaign.
Drive awareness for new product and brand launches by reaching audiences who've recently visited other similar categories and brands.
Acquire new customers by advertising your bestselling products to audiences who've recently viewed similar product or specific category detail pages.
Consider product targeting to help connect audiences to your product detail pages and complement this with views remarketing to help re-engage those audiences.
Select adjacent or substitute categories to reach new audiences.
This feature has great potential and advertisers can use it to show ads both off Amazon and on Amazon to reengage audiences anywhere. If you enjoyed reading this, you might also like our post on Sponsored Display Product Targeting.