Two metrics get a lot of attention in the world of Amazon advertising: ACOS & TACOS.
ACOS stands for Advertising Cost Of Sales, and TACOS stands for Total Advertising Cost of Sales. Here is the math behind them: (ACOS=Ad Spend/Ad Sales), (TACOS=Ad Spend/Total Sales). ACOS is a measure of advertising efficiency, and TACOS indicates the impact of ad spend on the top line.
The question that comes up all the time is, what should my TACOS be? We thought an estimate of Amazon's aggregate TACOS could serve as a good starting point in addressing this question. The math behind it would be Ad Spend/Amazon's GMV (Gross Merchandise Value). Below are Amazon's estimated GMV and ad revenue numbers for 2019 and 2020: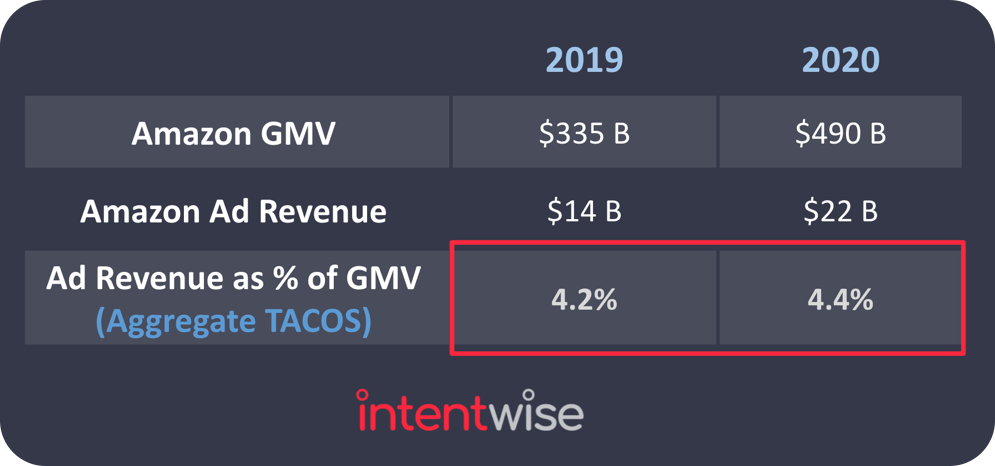 Amazon's aggregate TACOS has been around 4-5% for the past couple of years. This metric is interesting in a couple of ways
As an advertiser, you can use this as a benchmark in evaluating your TACOS. Note that this is an aggregate measure and could vary drastically by category.
Perhaps this metric helps us understand how big retail media could get other retail platforms such as eBay, Target, Walmart, Instacart. Maybe 4-5% of online GMV is what we should expect as the size of Retail media across all retailers
This post has been updated.