We probably don't have to tell you how critical your organic search ranking is to your success on Amazon. The numbers speak for themselves: When your product moves to the first page of search results, you should expect a 37% bump in sales.
Because of that significance, 66% of brands admit they are tracking how their competitors perform in search results. But many aren't using the most effective approach to do it.
Today, we want to highlight one of our favorite tools: Share of Voice.
What is Share of Voice?
Different companies have varying definitions of Share of Voice (SoV for short), but essentially your Share of Voice on Amazon tracks how visible your products—as well as your competitors' products—are in search results.
To measure your Share of Voice, you start by identifying important search keywords on Amazon. For instance, if you sell umbrellas, maybe you want to target "best red umbrella."
From there, you track how your products rank in the results. At Intentwise, we offer a metric called "Count of Your ASIN(s) in Search Results" that analyzes how many of your ASINs appear on Page 1 of search results, given a certain keyword. You can also see how these trends have shifted over time.
We give you a view of who is up and who is down: How many of your products show up on Page 1 for, say, a search for "red umbrella," and how has that shifted over time? What about products from your competitors? Who is ranking ahead of you, and what are the trend lines?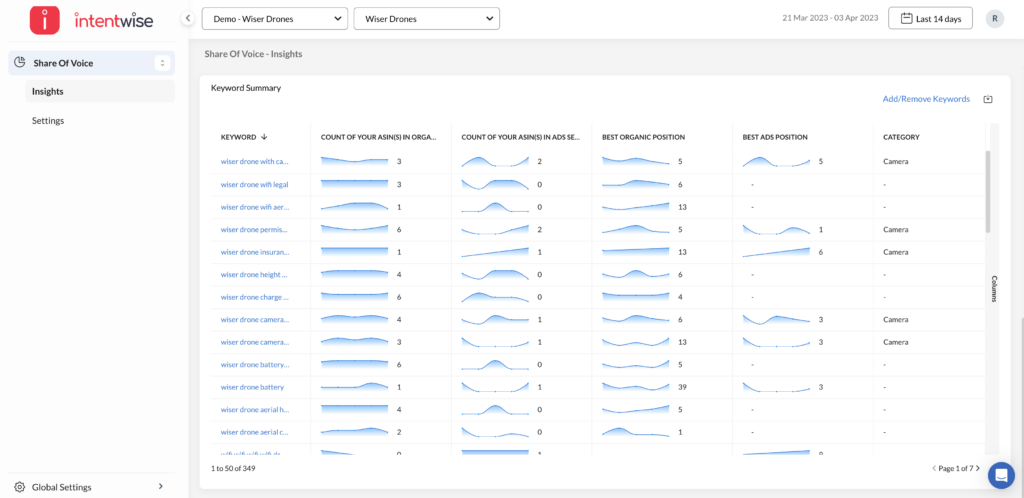 Layer in ad data to get a clear picture
Be sure to differentiate between paid and organic rankings when collecting and using your Share of Voice data. Within our dashboard at Intentwise, we track the Top 25 Organic Rankers and our Top 25 Advertisers for every given search result.
That way, you can easily see not just who is ranking above you, but also how frequently they are advertising—and on which keywords. If a product ranked below yours begins ramping up spending on a critical keyword, Share of Voice can flag that for you.
When we measure Share of Voice at Intentwise, we collect as much data from the search results as possible, including attributes like:
List price. What is the product selling for?
Rating. For each product on Page 1 of search results, we show you both the total number of reviews and the average rating.
Badges. If a product on Page 1 has a badge like Amazon's Choice, Best Seller, or anything else, we track it.
Ad campaigns. We can flag whether a brand is running an ad campaign on your chosen keyword, and if so, which type of ad: Sponsored Brands, Sponsored Products, and so on.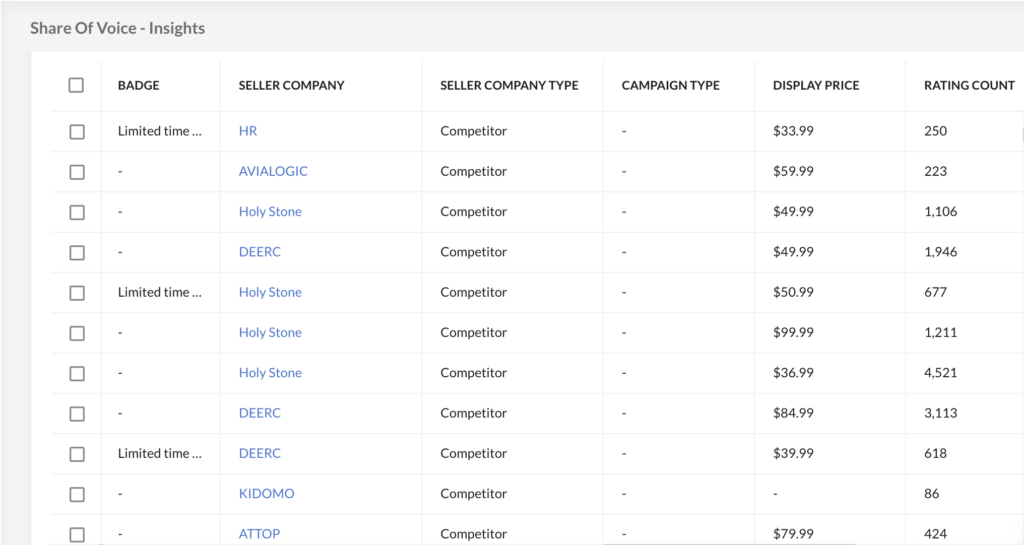 What does Share of Voice actually tell you?
By tracking Share of Voice, you can unlock insights like:
Competitor X gained SoV by consistently spending on ads
Competitor Y dropped SoV because it ran out of budget mid-day and under-spent on ads
Competitor Z maintained high organic rankings because it committed to a large amount of consistent spending
The most common way our clients use Share of Voice is to identify competitors to target. Let's say you're selling a dog leash, and you find in our Share of Voice tool that you're consistently ranked in the top 10-15 results for the keyword "dog leash."
You can use our data to identify which brands are consistently ranked above you for the same keyword, and other similar ones" Then, pull together a list of those ASINs ranked above you, and target them with Sponsored Products and Sponsored Display ads to try to rise above them. You can place ads on their Product Details Pages, for instance, in order to pry away sales.
From there, you can use SoV to track your progress: Are you moving up in the rank? Are your competitors falling? Are they spending more ad money in response to your campaign?
Case study: Elevate Brands
The Amazon aggregator Elevate Brands uses the Share of Voice tool in Intentwise Analytics Cloud in order to identify competitors. At various points, the Share of Voice tool unlocked unexpected insights about its place in the market.
Once, Elevate discovered that a brand with a significantly higher organic ranking was actually spending far less money on Amazon ads than Elevate was. These insights encouraged it to run a competitive analysis on that high-performing brand. What did the competitor do to achieve such a high search rank without much advertising? Is there anything Elevate can learn from them?
That is the beauty of this tool: You won't even know to ask questions like this until you begin tracking Share of Voice.