We've seen this pattern play out again and again: A brand owner wants to compare their most recent Amazon ad metrics to the year prior. They log into their Amazon account—and then they realize their historical data is gone.
The reality of advertising on Amazon is that, in most cases, your data disappears after 2-3 months.
Here's what that means: Past the 2-to-3-month mark, you can't access your ad performance reports unless you are actively downloading and saving your data from Amazon.
You can still get some of the basic campaign metrics that show up in your Ad Console, such as sales or impressions, for a long time. But the more specific reports, such as the search term report or other advertising reports, disappear quickly.
Say you want to know how your performance on a search term differed in 2022 vs. 2023. To get these numbers, you should have already downloaded and stored your search term reports for those date ranges in a digital warehouse. If you didn't, you might be out of luck.
How do I know when my ad data will disappear?
So how can you actually know the historical reporting window for each of your ad campaigns? Unfortunately, assessing lookback periods on Amazon's ad data is difficult because of the sheer variety of reports that Amazon offers (and the different lookback windows for each).
There are a couple of wrinkles to disentangling this information.
The first wrinkle: It depends on whether you're viewing your data directly on Amazon's Ad Console, or whether you're using an API to feed your Amazon data into a different location.
Let's start with the APIs. For a long time, the basic data for all of your sponsored ads only went back 60 days. But Amazon recently released version 3 of its API, which allows for historical reporting periods of up to 95 days specifically for Sponsored Products ads.
Now, you can get data for Sponsored Products ads that ran just over three months into the past. Sponsored Brands and Sponsored Display, by contrast, still have a 60-day lookback window.
Now let's turn to the Ad Console. In your Ad Console, you have access to numerous different ad reports, from search term reports to keyword placement reports.
These reports vary depending on the type of ad you use: Sponsored Brands, Sponsored Products, and Sponsored Display have different reports. Each of these reports also has different historical reporting periods.
To see what we mean, let's go through some examples of Ad Console reports.
Targeting Report
What it does: Provides details about the keywords, categories, and products you targeted
Historical window: 90 days
Search Term Report
What it does: Provides details about conversions and impressions on relevant keywords
Historical window: 60 days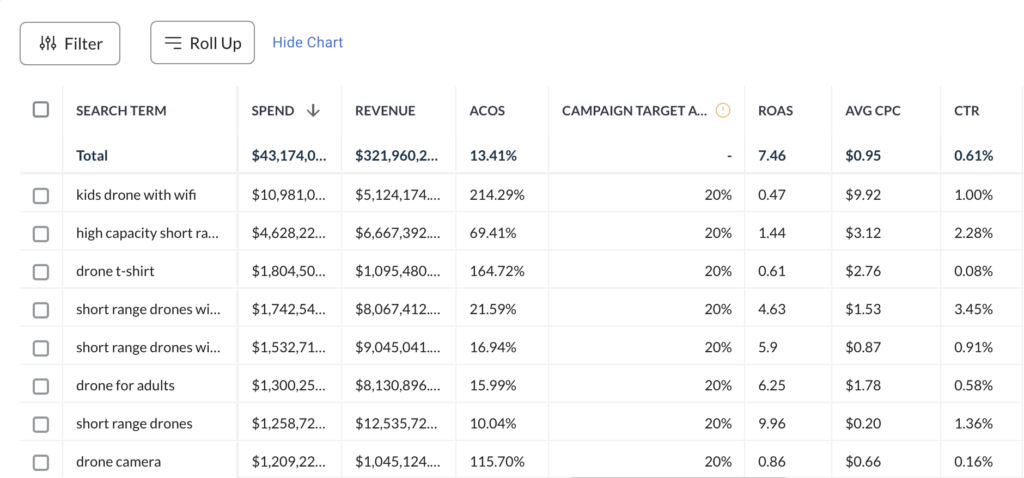 (A view of search term performance over a 1-year period, from Intentwise Analytics Cloud)
Advertised Products Report
What it does: Tracks the sales on the ASINs you placed ad money behind
Historical window: 90 days
Purchased Products Report
What it does: In contrast to the Advertised Products Report report, this tracks the sales on ASINs that were not specifically advertised
Historical window: 60 days
You probably get the gist. Amazon's Ad Console has a large number of reports, each with different historical windows. But if you don't regularly download and store these reports at consistent intervals, your chance to compare your data over time will be lost.
It's best to be proactive. You can't know what kinds of YoY comparisons you may want to make a year from now. Maybe you think your search term data isn't very important to your bottom line. But a year from now, you may end up wishing you had saved these reports.
That's why we recommend a more forward-thinking approach to capturing your data, before it disappears off of Amazon.
Where should all this data go?
Let's say you are ready to start proactively saving your Amazon data. Understandably, the question becomes: Well, where do I store all of it?
The DIY solution: Many brands just opt for the simplest possible route: They hire a virtual assistant to manually download their reports from the Ad Console each month. Then they save those reports into an elaborate document tree on Google Drive.
This approach is incredibly tedious and time intensive. It is also very hard to join all of those reports together to see them in a single view. The end result: You have your data, but it takes a lot of time to extract insights from it.
API only: Sometimes, brands will opt to hire their own data teams to forge Amazon API connections and automatically download these reports themselves.
That's a great idea in theory—but in practice, it's far more intensive than many brands realize. Even an experienced team of software developers need 3-4 months to connect and store Amazon's API data.
The agency route: Instead, brands may opt to hire an agency to manage their ad campaigns for them.
This is a smart route, but one downside to consider is that agencies use their own technologies to manage your ads and source your data. Because of this, they will only let you access your data for the duration of your contract with that agency. If you switch agencies, in other words, you often lose access to your data. Then you're back to square one.
With Intentwise: If your goal is to retain full ownership of your data, then you should consider a tool like Intentwise Analytics Cloud. 
We pull reports from Amazon's APIs automatically, so we can give you a full, historical view of your campaigns over the years.
With Intentwise, you can easily run YoY comparisons, and you won't even have to think about whether you remembered to save your data from Amazon.