Can Amazon DSP help you level up your Amazon ad strategy? If you have maximized all of your growth opportunities with Amazon's sponsored ads, then the answer is probably yes.
What is Amazon DSP? Amazon DSP is Amazon's programmatic demand-side platform that:
Gives advertisers deeper control over where their ads appear on and off Amazon.com.
Lets advertisers target specific groups of shoppers.
Leverages Amazon's 3rd party publisher network to surface ads on Twitch, Audible, third-party websites, streaming services (like Freevee and Paramount+), and more.
Helps advertisers target shoppers higher up in the marketing funnel.
In essence, DSP lets you leverage the power and depth of Amazon's own walled garden of data beyond just Amazon.com.
Amazon knows a lot about the average shopper—what they viewed, what they purchased, what they added to cart but didn't purchase, and so on. With DSP, you can target those same shoppers even when they aren't on Amazon.
For example: With Amazon DSP, you can target ads to every shopper who viewed your product page when they tune in to watch a hit TV show on Prime Video like "Jury Duty."
If you're already a sophisticated advertiser on Amazon, and are already maximizing all opportunities with Amazon Sponsored Ads, then you should consider giving DSP a try.
What does Amazon DSP stand for?
"DSP" stands for Demand Side Platform. A DSP is an advertising software that allows brands or agencies to buy ads from multiple exchanges at once.
It can get wonky quickly, but the bigger point is this: on Amazon, DSP ads are a distinct offering from Amazon's sponsored ads stack. That means DSP operates in a fundamentally different manner from Sponsored Products, Sponsored Brands, and Sponsored Display ads.
Whereas sponsored ads appear in search results and on product detail pages on Amazon, Amazon's DSP ads generally surface both on and off of Amazon.com. Similarly, DSP ads also allow for far more sophisticated targeting options than traditional sponsored ads.
Sponsored ads are keyword and product-targeting based. You can only capture demand that already exists—for example, someone searching for kitchen towels.
By contrast, DSP ads reach people based on their traits or behaviors. You can find someone who is "in-market" for kitchen towels, for example, who might not have even searched for it yet.
What is a DSP seat?
To use DSP, you need to secure what Amazon calls a "seat" in its DSP. If you don't have your own seat, you can also work through an Amazon approved partner, like Intentwise, to get started on DSP.
DSP seats are generally only given to brands and agencies who are certified on Amazon's DSP and maintain monthly spending of over $100,000.
If that cost is prohibitive to you, don't worry: You have options. Many brands partner with agencies who already have DSP seats, and who can manage their DSP accounts for them.
When you work through a partner, you only need to meet their minimum spend requirements to get started with DSP. At Intentwise, we work with brands spending as little as $10,000/month or as much as $100,000/month+ on DSP.
Where do my DSP ads appear?
There are a whole range of possible places where a DSP ad can surface. DSP ads can appear on:
Amazon.com. While you might assume DSP ads are meant to run off-Amazon, you can still set DSP to appear on Amazon.com. DSP ads that surface on Amazon's own platform tend to appear as displays on the side of the screen.
Twitch, Audible, Kindle, etc. DSP is the best way to get your ads on Amazon's owned and operated sites. With DSP, you can advertise on Twitch, the popular Amazon-owned livestreaming platform; create audio ads that surface to listeners of the audio platform Audible; or cut ads that show up on Kindle devices.
Streaming TV. Your DSP ads can show up on Amazon's own streaming programs, such as on the Amazon FireTV or on Amazon's streaming service Freevee (formerly IMDBtv). You can also send your ads to other streaming platforms with which Amazon has agreements, such as Paramount+.
Third-party websites. DSP can surface ads not just on Amazon-owned websites like Goodreads, but also on thousands of third-party websites across the internet. If you've ever visited a non-Amazon website and seen an ad for a product on Amazon, then you've certainly interacted with DSP ads.
What kind of targeting options does Amazon DSP offer?
The main benefit to many brands is that you can create more fine-grained audiences to target with DSP.
Amazon DSP lets you choose shoppers using:
Behavioral targeting, which narrows down shoppers based on actions they've taken on Amazon.com in the past 30 days. If a customer added your product or your competitor's product to their cart, for example, you can tailor an ad to them.
Contextual targeting, based on when/where someone is engaging with an ad.
Lifestyle targeting, which sorts customers into personas based on their age, location, purchase history, and life events. For example, you can reach new first-time parents, or people who just moved into a new home.
Lookalike audiences, which identifies groups of shoppers that have a lot in common with either your current customers or any other group of shoppers you wish to form.
Custom audiences, created using each advertiser's own data. For instance, you can upload the email addresses of past purchasers on your DTC website, in a hashed, privacy-safe way.
Amazon will then attempt to match the uploaded advertiser data to their own records. If successful, you'll be able to target/exclude those customers directly through Amazon's DSP and/or create lookalike audiences to target.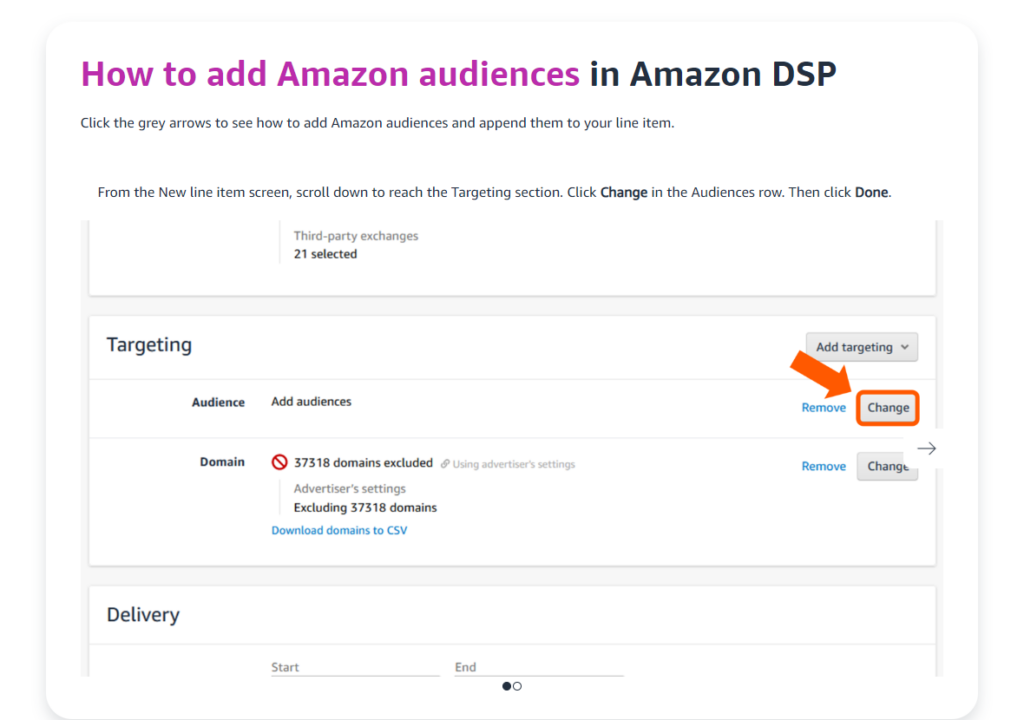 Can you customize DSP ads to each customer?
One of the biggest differentiators of DSP is the ability to customize your campaign creatives using machine learning tools. Through a tool called Responsive eCommerce Creative (REC), Amazon DSP will tailor your content to each customer's specific inclinations.
For instance, Amazon's machine learning tools can automatically change the CTA on an ad. One customer might see "Add to Cart" while another might see a product review.
Why the difference? Amazon is constantly optimizing DSP campaigns that use RECs in real-time. Does this user read reviews before they buy a product? The ad shows a review. Does the customer typically wait for a discount? The ad will emphasize the coupon that's currently active.
The ability to customize creatives on the fly can go a long way toward bringing home a conversion. It's also a unique feature exclusive to AMC.
Who benefits from Amazon DSP ads?
Amazon DSP is great for any brand or agency that wants to develop a full-funnel advertising strategy. DSP ads allow brands and agencies the chance to target shoppers in all parts of the sales funnel from awareness to consideration and purchase. Sponsored ads tend to focus on customers who are closer to the bottom of the funnel, meaning they are already in a shopping mindset.
If you run a DSP ad on Freevee or Paramount+, you can reach people who might not be thinking about your brand at all. Then, with a DSP display ad on Amazon.com or a re-targeting ad on a third-party website, you can continue to push them toward a conversion.
DSP ads also offer a sophisticated way for non-endemic brands to make use of the Amazon platform. Let's say you sell insurance, home internet service, or other products that can't be sold on the Amazon platform. DSP ads offer a way to leverage Amazon's comprehensive data on what customers ultimately purchase without needing to have a product detail page on Amazon.com.
Can I link DSP to Amazon Marketing Cloud?
Amazon DSP is deeply tied to Amazon Marketing Cloud (AMC), the company's powerful new analytics tool.
First, to use Amazon Marketing Cloud, you need to be actively spending on DSP. But Amazon Marketing Cloud can also enrich your DSP experience in other ways.
Here's one example: AMC lets you create far more granular audiences than the built-in DSP audiences, as we discussed in a recent webinar. After you formulate an audience in AMC, you can then push it to DSP. That new audience will live in your DSP account, and you can immediately target it or exclude it from DSP ads.
AMC, in other words, can help sophisticated brands and agencies get the most out of their DSP experience.
Ready to get started with Amazon DSP? Our DSP Ad Optimizer tool makes it easy to manage your DSP orders at scale.