Amazon introduced broad match modifiers in Sponsored Brands a little while back. However, we have noticed that quite a few advertisers are not leveraging this new match type yet. For those of you that have experience with Google Adwords or Bing ads, you are probably familiar with broad match modifiers. If not, read on.
This blog post describes the new match type variation that you should be leveraging in your campaigns. In the past, there were three match types: Broad, Phrase, Exact.
Broad match keywords attract searches that are related to the keyword, including synonyms, spelling variations, and related brands. A keyword like "kids shoes" would attract searches like "children's shoes" or even brand names that offer kids shoes.
Phrase match only triggers searches with words in the same order as the keywords. For example, "kids shoes" phrase match would not be triggered for searches like "shoes for kids" because the words are in a different order. Searches like "purple kids shoes" or "kids shoes size 4″ would be triggered by this keyword.
Exact match implies that searches match the keyword exactly, with minor variations (such as plurals). "Kids shoes" in exact match will attract searches such as "Kids shoes" and "kids shoe."
About Broad Match Modified
Advertisers can add modifiers in broad match to ensure that ads are triggered only when certain words appear in the search terms, while also benefiting from the breadth of broad match coverage. All you have to do is put a '+' in front of words. For example, +kids +shoes will attract searches like "kids shoes," "shoes for kids." You can choose to put the modifier in front of a subset of words, as well. +kids shoes will ensure that the word "kids" is always present in the searches trigger ads. In essence, this match type is not as restrictive as phrase match and also not as broad as broad match.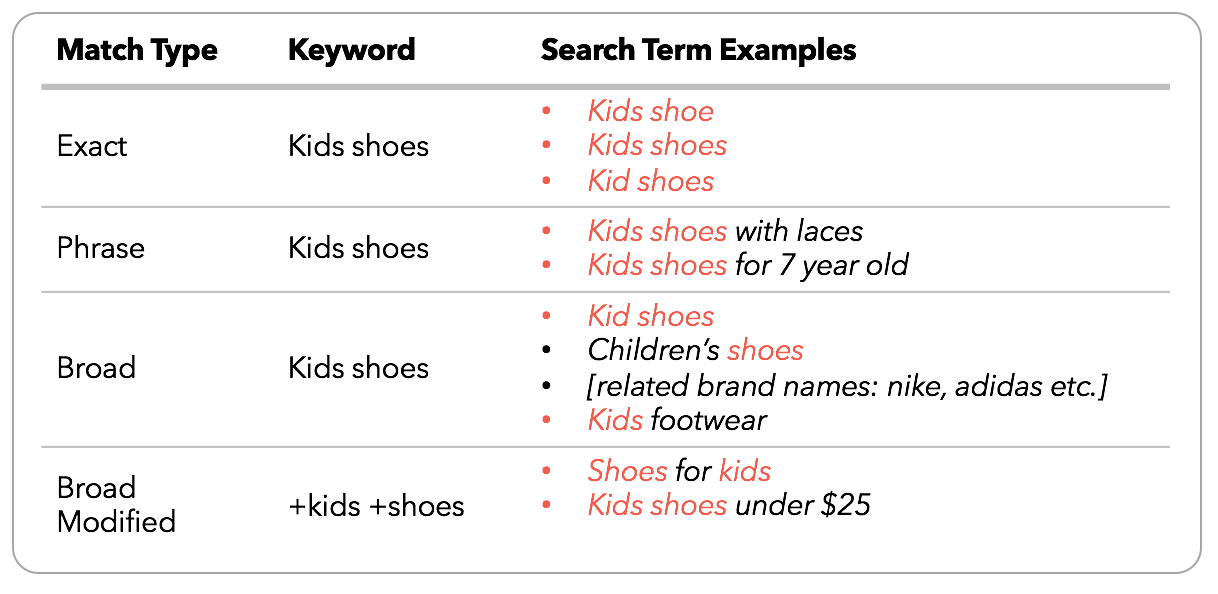 Recommended next step
For each of your broad match keywords, consider adding a broad match modified keyword. Keep a close eye on search terms and periodically add appropriate negatives. (NOTE: You can now download a search term report for Sponsored Brand campaigns.)
Read our post "Ensure Parity with Amazon SP and SB Keywords" for more tips on optimizing your Amazon Advertising keywords strategy.