Before you can start working on Amazon Marketing Services (AMS) ads, you need to familiarize yourself with the Amazon account management environment. Read below for the basics of setting up your dashboard.
The first step of setting up Amazon account management is to either create your own Vendor account or request someone to give you access to their account. If you wish to create your own Vendor account to sell products, follow the instructions here. This post focuses on walking you through getting access.
Obtain Access To The Account
There are two ways to obtain access to a vendor account:
The vendor gives your email an access
You request the vendor to give you an access
For the first method, you and the vendor administrator need to walk through the following:
The vendor grants your request for access within their account.
You receive a notification email about the access.
Click on the link in the email. Log in with your AMS account and then notify them that you've accepted their invitation.
The vendor now needs to refresh their "Manage Users" screen, which will show the access level for your email.
The vendor needs to click on the "Edit Permissions" link next to your name on their screen. They can either give you View, Editor, or Admin access.
For instance two, you create an AMS account and login to your account. Under the Accounts tab, click on "Brand Management".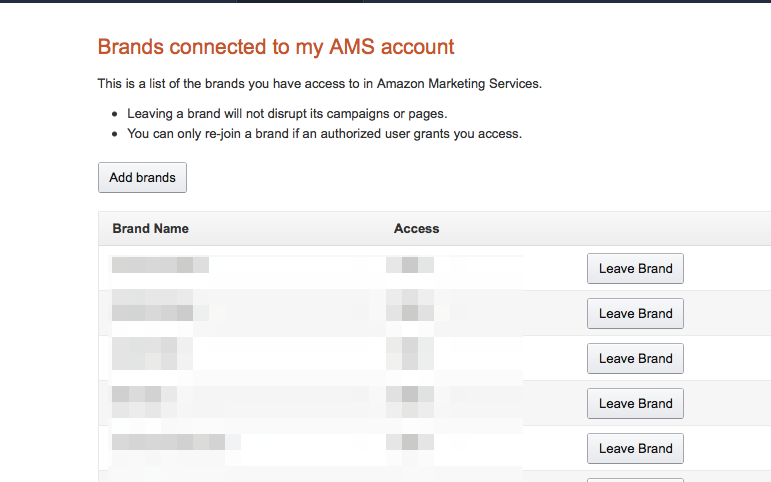 Click on "Add brands" which will display the form seen below. You need to fill in all the fields under the "Brand Details" section for each brand you're adding.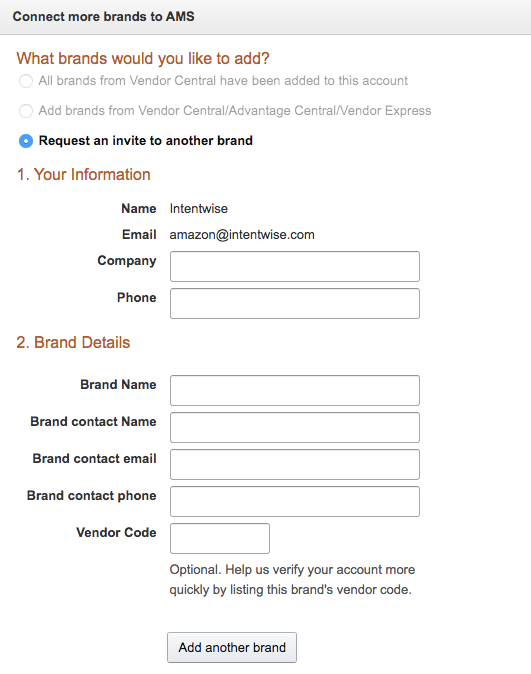 Once all the information is filled out, an email will be sent to the admin whose contact details are provided in the Brand Details section. Once approved by the admin, you will get a notification, and the Vendor account will be visible in your AMS account. The access provided to your account can be:
Advertising: "admin"
Everything else: "view"
You are now all set to proceed with Amazon account management. Depending on your access level, you can either create/modify campaigns and ad groups, or just view and download reports.
Read our post "AMS Feature Update: Promo Codes On Vendor Central" to understand the process of creating a new Promo Code.